Baseball is back! Well, at least with Cheap Wax Wednesday. Hopefully MLB follows suit and returns to the field soon.
2020 Topps Big League Baseball consists of a 300-card base checklist. Parallels are available in six levels. Blue parallels are found only in blaster boxes, while Gold are exclusive to hanger packs. That leaves four different parallels, Orange, Rainbow Foil, Black & White, and one-of-one Red Foil parallels.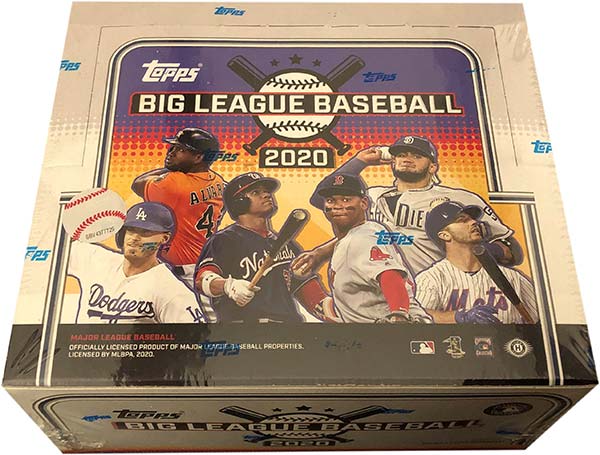 As for inserts, Defensive Wizards, Flipping Out, Roll Call, and Star Caricatures are all regular finds. Ballpark Oddities is a rare insert chase, found just once in every 554 packs. Autograph cards are also included, but not every box has one. 
Topps debuted the Big League brand with a 2018 release. It was meant to be budget-friendly and was geared towards younger collectors. Big League was released 2018-2020 without interruption. That changed, however, last year. Without much explanation the 2021 Big League release, originally slated for May 2021, has been pushed back multiple times. It is now supposed to be released next month, but we will see if that happens. 
2020 Topps Big League Baseball Box Break
Cards per pack: 10
Packs per box: 18
Price paid: $33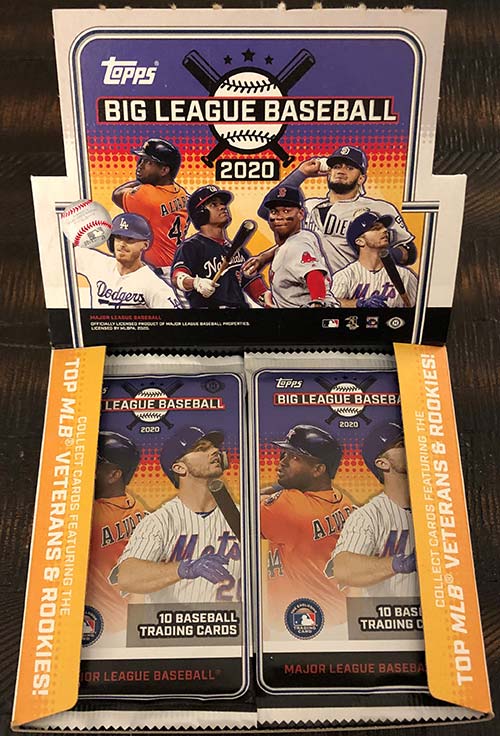 Pack 1 highlights:
Max Scherzer, Jose Altuve, Nico Hoerner RC Orange (one per pack) & Brian Anderson Star Caricatures (1:4 packs)
The Star Caricatures Originals artwork cards were also inserted into packs, with odds at 1:38,320 packs.

Pack 2:
Cody Bellinger, Kyle Schwarber, Jonathan Schoop Orange, Mike Trout, Robinson Cano & DJ LeMahieu Defensive Wizards (1:4 packs)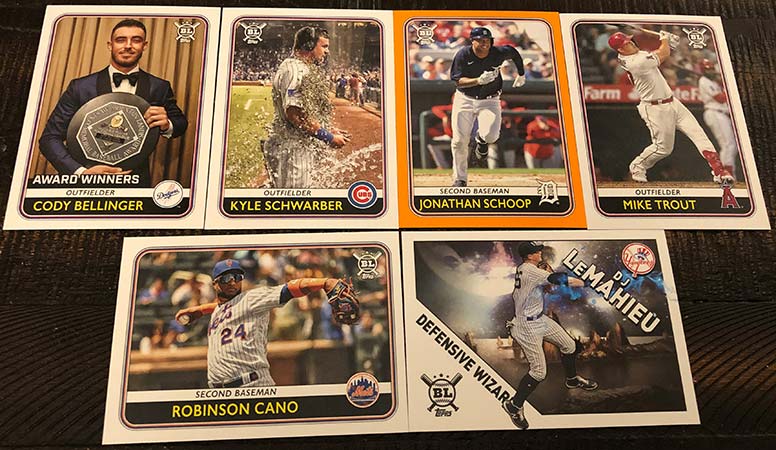 Pack 3:
Ronald Acuna, Jr., Javier Baez, Acuna/Bellinger/Rendon Orange & Vladimir Guerrero, Jr. Star Caricatures (1:4 packs)
Great photo choice on the Baez card. How often do you see the player highlighted on the card not be the one making the defensive play?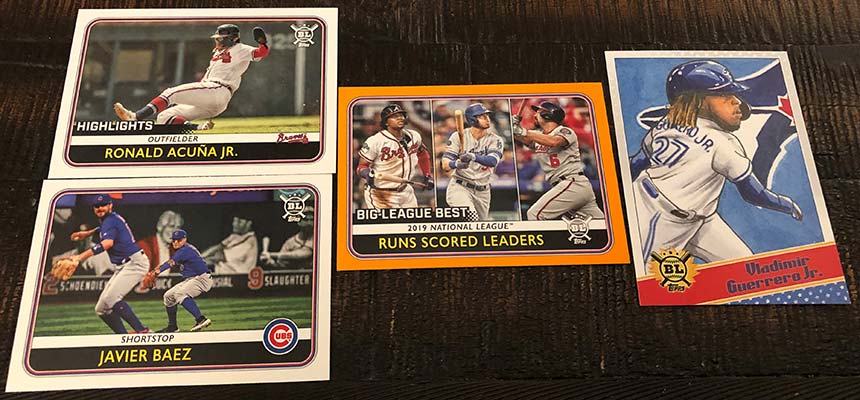 Pack 4:
Yordan Alvarez, Hunter Renfroe Orange, Michael Baez Rainbow Foil #ed 056/100 (1:38 packs) & Matt Chapman Roll Call (1:4 packs)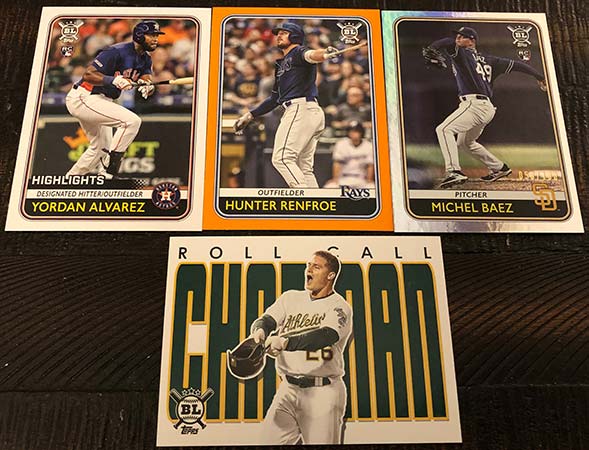 Pack 5:
Andrew McCutchen, Justin Verlander, Verlander/Cole/Rodriguez Orange & Nolan Arenado Roll Call (1:4 packs)
Nolan Arenado has played nine seasons at the major league level. He has won a Gold Glove award every single one of those nine seasons.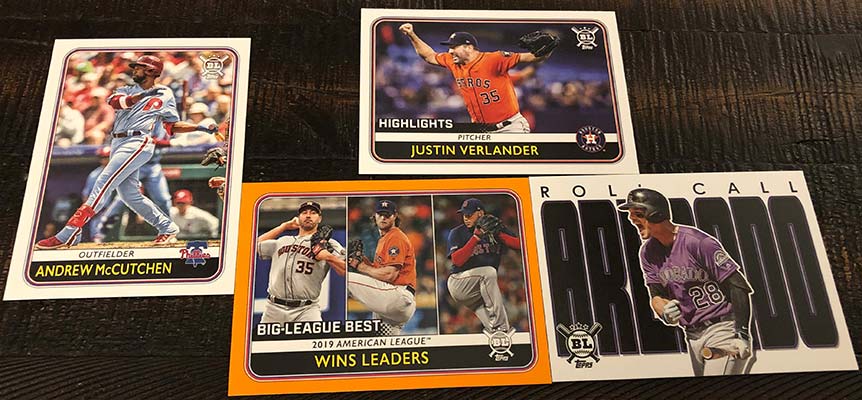 Pack 6:
Paul Goldschmidt, Alonso/Suarez/Bellinger, Albert Pujols, Ketel Marte Orange & Eloy Jimenez Star Caricatures (1:4 packs)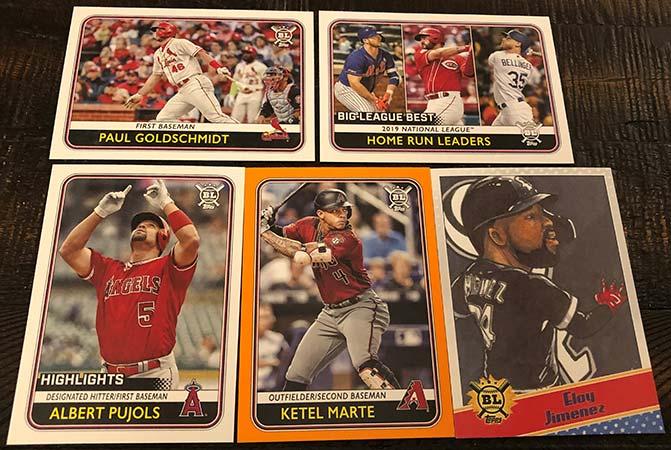 Pack 7:
Clayton Kershaw, Mike Trout, Rafael Devers Flipping Out (1:4 packs) & Jesus Aguilar Orange
Kershaw sits 15 wins shy of a milestone 200th win. Will he get it this season?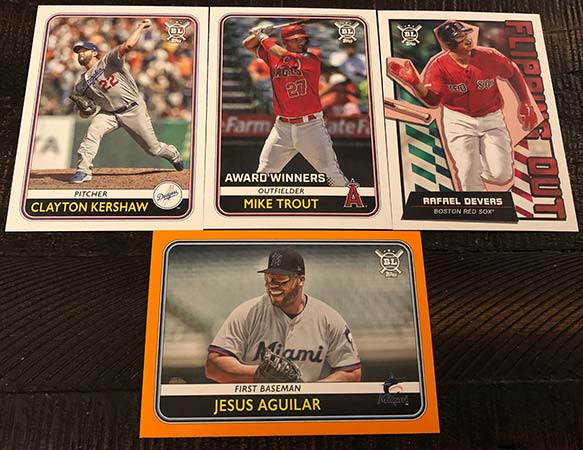 Pack 8:
Bryce Harper, Francisco Lindor, Pete Alonso, Daniel Vogelbach Orange, deGrom/Strasburg/Scherzer & Bryce Harper Defensive Wizards (1:4 packs)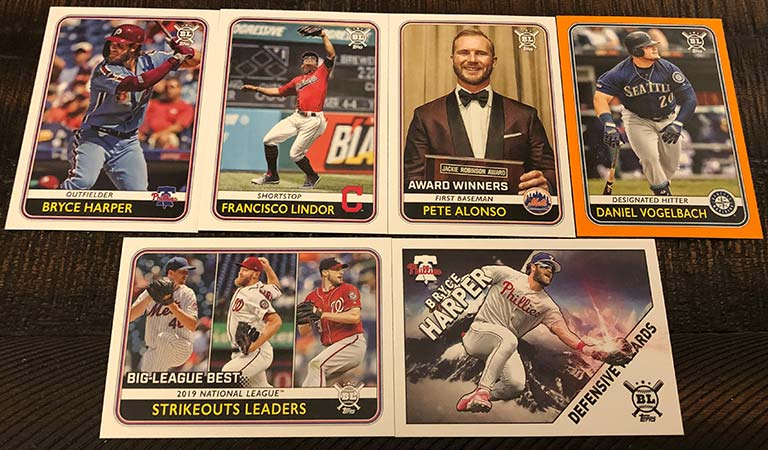 Pack 9:
Zack Greinke, Albert Pujols, Alex Bregman, Stephen Straburg, Trea Turner, Andrew Benintendi Orange & Shohei Ohtani Roll Call (1:4 packs)
Albert Pujols holds just one all-time major league record — 413 times grounding into double plays.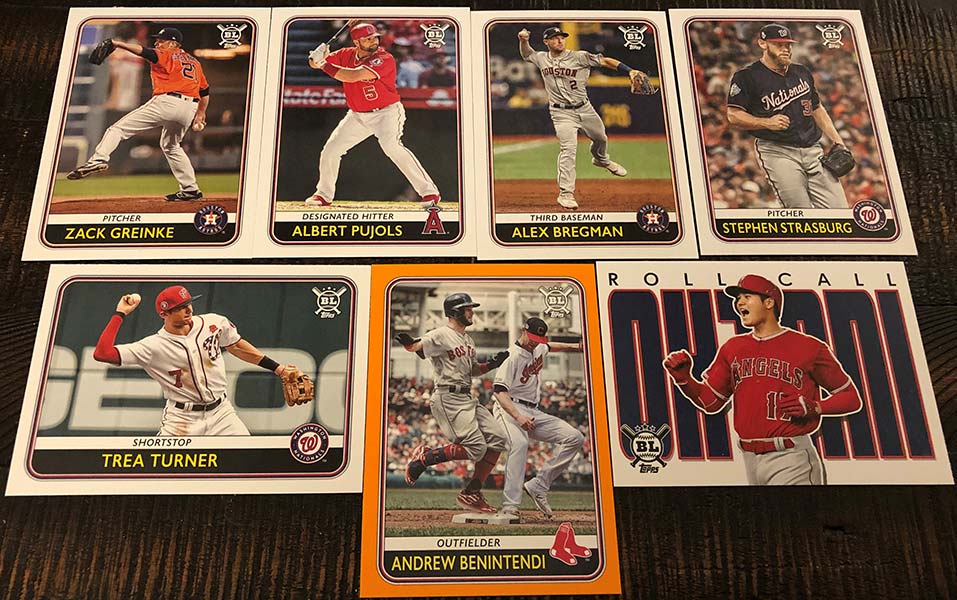 Pack 10:
Charlie Blackmon, Gerrit Cole, Ketel Marte Star Caricatures (1:4 packs), Yordan Alvarez RC & Ian Desmond Orange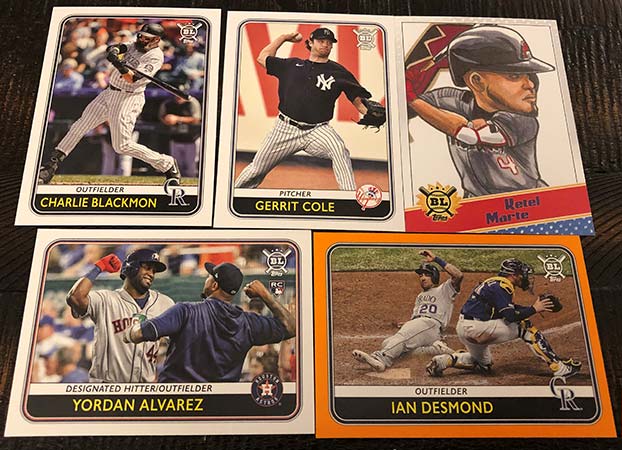 Pack 11:
Rafael Devers, Willson Contreras, Dawel Lugo Orange & Contreras Flipping Out (1:4 packs)
Devers won his first Silver Slugger award in 2021, hitting 38 home runs and driving in 113. 

Pack 12:
Pete Alonso, Shohei Ohtani Orange, Ronald Acuna, Jr. & Nolan Arenado Defensive Wizards (1:4 packs)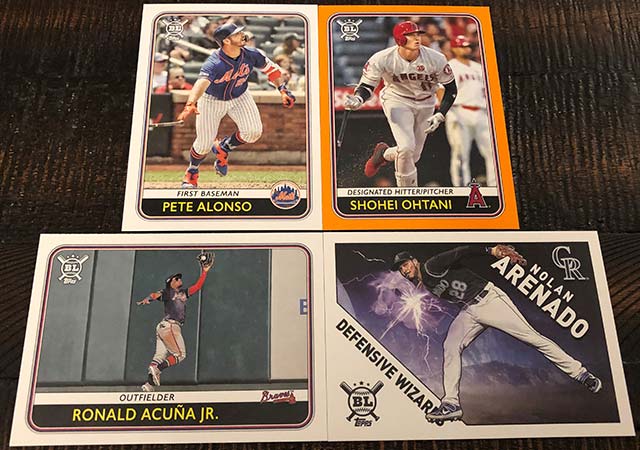 Pack 13:
Manny Machado, Justin Verlander Orange & Matt Chapman Defensive Wizards (1:4 packs)
Chapman really is a defensive wizard. He has won Gold Glove awards in three of the last four seasons.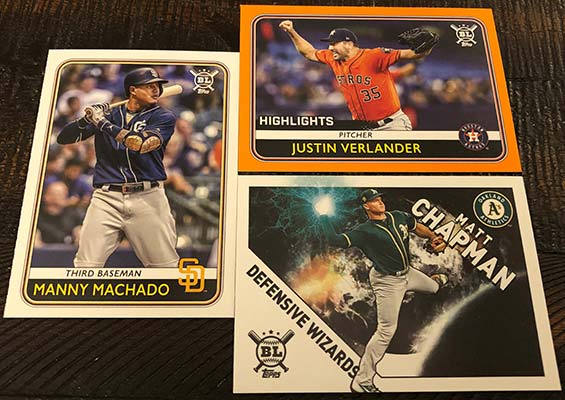 Pack 14:
Ramon Laureano, Aristides Aquino RC, Noah Syndergaard, Salvador Perez Orange & Keston Hiura Roll Call (1:4 packs)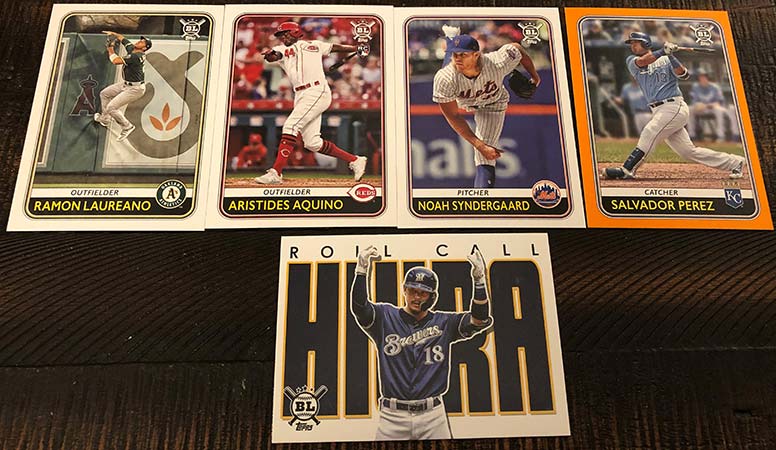 Pack 15:
Nolan Arenado, Mike Trout, Miguel Sano Orange, Francisco Lindor Star Caricatures (1:4 packs) & Daniel Vogelbach Big League Autographs (1:78 packs)
Vogelbach posted a 30-home run season in 2019 but hasn't been able to come anywhere close to matching that number in the two seasons since then. 
Pack 16:
Jeff Samardzija Orange, Ozzie Albies & Max Kepler Flipping Out (1:4 packs)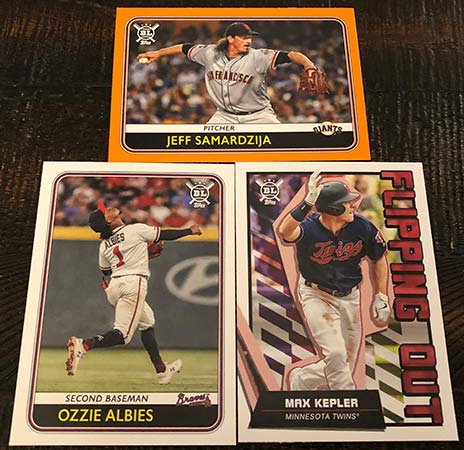 Pack 17:
Jack Flaherty, Ichiro Suzuki, Harold Ramirez Orange & David Peralta Defensive Wizards (1:4 packs)
After a down 2020 season, Flaherty returned to ace form in 2021, pitching to a 3.22 season ERA.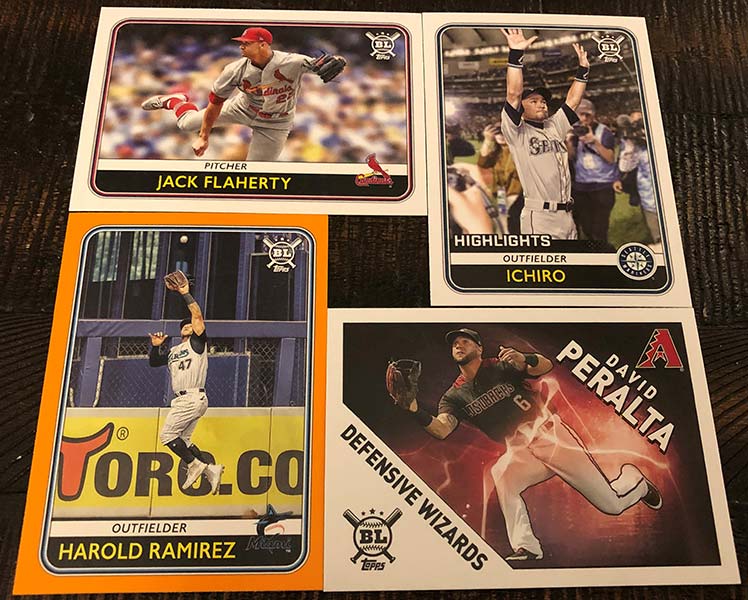 Pack 18:
J.D. Martinez, Shohei Ohtani, Mike Trout, Mitch Garver Orange & Yordan Alvarez Roll Call (1:4 packs)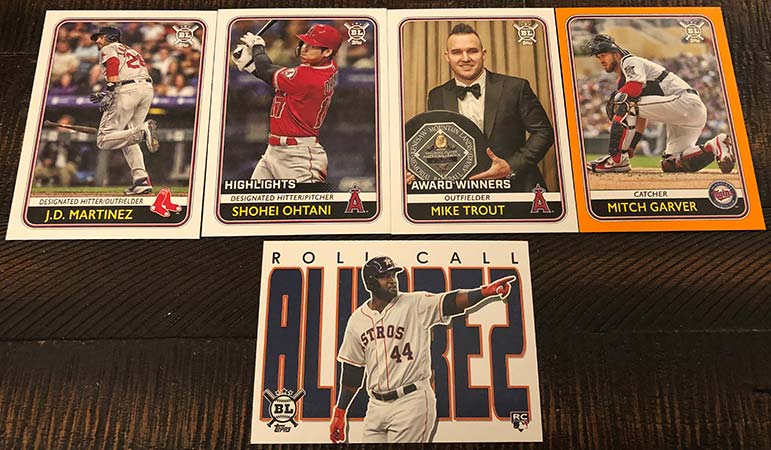 Lastly, the J.D. Martinez retro-looking card back. I would've loved to see full career stat lines, but we only get the last five seasons.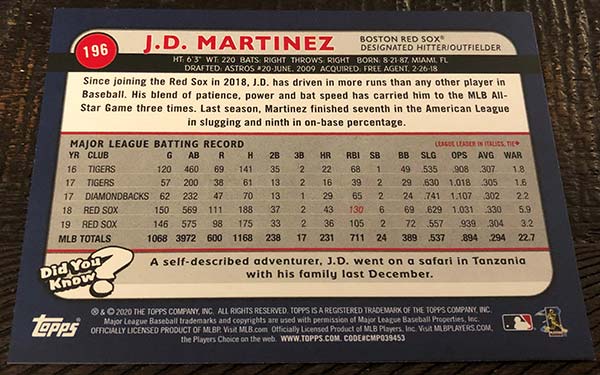 I beat the odds and pulled an autograph. No, it wasn't a huge star, but still not something found in every box. These budget- and kid-friendly will always get me to buy. I mean, as collectors, aren't we all kids at heart? 
Now, if only we could get major league baseball started back up. In the meantime, enjoy as much college baseball as you can.
Shop for 2020 Topps Big League Baseball on:
Want more installments of Shane Salmonson's Cheap Wax Wednesday? Check out his other breaks in the archives.